I've been wanting to talk about two new cookery (related) books I have acquired in the past couple of weeks, I can't do any reviews on them until I have used/read them but I was excited to share what they were. However, I may start reviewing cookery books I use a lot, just thought of that as a future thing to do! Oooh!
So, book number 1 is not a cookery book as such but an autobiography of one of my favourite chefs, Nigel Slater, called
Toast
.
I have one of his books
Real Cooking
, which I've made a couple of dishes from and I do like the book but his cookery programmes are what I like most about him as a chef.
There's always different things that stand out to me depending on the chef, maybe the style that they cook in, their books, their programmes, the kinds of food they cook or their personality.
With Nigel Slater, I love his kooky personality, he is so passionate about food, about homegrown fresh produce and I adore his Simple Suppers programme, only because I love anything that's easy! I find him really inspiring as a chef and just from him as a person.
One of the reasons I have grown to like him more is watching the
television adaptation
of his autobiography/memoirs
Toast
which was on over the Christmas holidays. It was brilliantly acted and was a wonderful portrayal of his early years, his difficult and at times, very sad upbringing, watching him deal with issues beyond his years with a great maturity.
The most poignant theme for me, as to what you could take away from watching it, was his drive to succeed. Slater, driven by so many factors in the early stages of his life; the loss of his mother, his father's difficulty adjusting to life after her death subsequently resulting in a lack of parenting and his new stepmother, who constantly competed for his father's love with food, pushed himself to excel in cooking, to become the best and then at a very early age, to leave home and work in a kitchen in the big smoke. So inspiring and I can't wait to start reading the book version of this.
Secondly is a book I've been wanting for a little while,
Two Greedy Italians
by
Antonio Carluccio & Gennaro Contaldo. I haven't seen any cookery programmes from Gennaro Contaldo, and I don't know that much about him apart from the fact he was Jamie Oliver's mentor and has appeared in a couple of his programmes. I have however watched some of Antonio Carluccio during Saturday Kitchen, where he prepares amazing Italian rustic feasts which just seem so easy to him!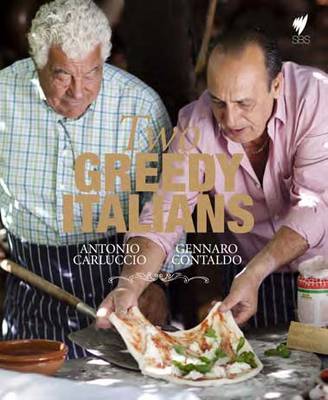 I am yet to make a recipe out of it but I assure you that when I do, I will be writing about it! When I first got this book (late birthday present), I leafed through all of the pages and by the end of the book I was seriously annoying my sister by exclaiming at every recipe how delicious it looked! I loved that it's an Italian cookery book by Italians, now I know that may sound a little strange because I'm sure there are plenty of Italian cookery books by Italians, but for me the only Italian cookbook I have is by Jamie Oliver, and as much as I absolutely love Jamie, there is nothing better than getting proper Italian dishes made by Italians that probably had their mammas cooking these kinds of foods for them! There's pages on Italian culture, the North-South divide, cucina povera, street food and family. I am in love with Italy and would love to live there (again), I love the food and I think it's amazing how invested Italians are in it, in good meats, good cheeses, breads, good overall ingredients and that dinner can last a few hours but with quality family time, not just eating dinner separately or eating in front of the t.v.
I am beyond excited to start cooking from this book and may make a recipe next week!